Filipe Miguel Delgadinho Araújo Albuquerque

Professional racing driver currently competing in IMSA with Wayne Taylor Racing and in FIA WEC with United Autosports
Date of birth: 13/06/1985
Height and weight: 174 cm, 67kg
Home: Coimbra, Portugal
Married to Joana, 2 daughters – Carolina and Maria
Hobbies: MTB, Tennis
Goal: Le Mans overall win
MY STORY
1993-94
My passion for motorsports started back in 1993, when I tried a go-kart for the first time, at the Kart Circuit in Batalha. My father was the one who took us, my brother and I. He was very fond of karting and wanted to make a hobby out of it.
Later on my father bought two go-karts, one for him and one for us, and we started having a blast on the weekends, which used to kick off quite early, as at 8:30 am we would already be out the door. The karts were already prepared from the day before, all set at the trailer, my father had already filled up the tank, air in the tires and off we'd go, as a family, down the freeways.
At this stage we weren't racing, we just had fun. My siblings, Tiago and Rita, and I would spend the day driving around in our go-kart – my sister started joining us too – and my mother organized the meals for the day.At the track, my father used to advise us and kept telling us to enjoy ourselves but to be careful. The important part was being together.
In 1994, my brother and I made our debut in competitions at Leiria. The track at Milagres had just opened and we participated in the regional championship. I remember that I finished 3rd in my first race and felt really upset because my brother won it.
1995-98
Since 95, my brother and I started to participate in the national championship, in different categories. We had to skip school because the free practice took place on Fridays, followed by the qualifying on Saturdays and the race on Sundays. These weekends were spent with the family and friends from Coimbra, as well as with our rivals. We started making friends throughout the rest of the country, in Braga, Porto, Lisbon and the Algarve. There was a special atmosphere amongst all during these weekends, a great affinity between people and we spent a lot of time together. At the time, we were already hanging out with João Figueiredo, who was also competing in the national championship and is now married to my sister Rita.
I remember we prepped everything at the last minute because both my parents worked long and hard. We were amateurs but happy. From the early morning to the late afternoon, we were always gassing up the kart and winding up the engine to get going. During lunch breaks we played football, the atmosphere was very relaxed and we could even walk in the middle of the track watching the other riders driving around.
Despite our best efforts there was something missing in the results we were achieving. In one of those lunches or dinners with friends, where everyone shares their thoughts, we talked about Norma Team, a Tony Kart team in Portugal. In 1997 we raced with them, I immediately won and my father went talking to them for the following year.
When I switched to Norma in 1998, I was able to work with a very good mechanical engineer, Cerqueira. That year the results were immediately different and I became one of the leading drivers. I finished 2nd in the national championship and I won the Portuguese Cup in the Beginners category.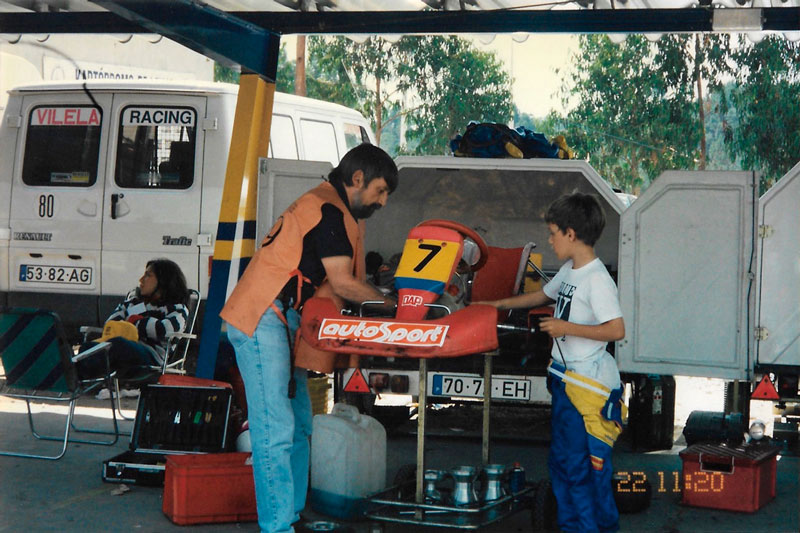 1999-2001
In 1999 I had to move up to the Junior category and that's when the Couceiro brothers, Nuno and Pedro, decided to create their karting team. We had never personally met, I just knew that Pedro was an international race car driver and a role model to look up to at that time. My father was introduced to Nuno, who was already managing Pedro's international career and became interested in me joining CJT (Couceiro Júnior Team).
We met at the right time. I was one of the rising stars for the Junior category because I had been competitive in the Beginners. We decided to move forward because the CJT project was very ambitious and completely different from the rest of the teams. They were hiring qualified employees abroad and they were going to partner up with Danilo Rossi, a five-time world karting champion.
That was the best decision we could've made, the CJT was a game changer in the karting world in Portugal and it became the no. 1 team in the country, which set the example for all other teams. Everything worked very professionally. My father did not have to come to help put the kart on the ground nor do mechanical labor, from then on my father was just my father, who continued to follow everything closely. From time to time, Danilo Rossi would come to some of my races and also would give me a lot of advice, namely on how to deal with a race. Deep down, he guided me. I spent most of my time with Marco Rossi, Danilo's older brother, a mechanic, who would come from Italy on purpose to assist us with the races. He is a person for whom I have great esteem and from whom I learned a lot. He had a way with younger kids.
That CJT environment was spectacular. Paulo Lopes, better known as Careca, was the team manager and took care of the whole lot, the team, he'd double check if everything was going well and took care of the logistics. In the first year of CJT there was only another driver, Frederico Correia, who was in the Inter-A category. Later, the CJT started growing and other drivers joined us, such as Duarte Félix da Costa, who was my teammate between 2000 and 2002, Armando Parente in the Junior league and Marcelino and António Félix da Costa in the Beginners category.
I stayed at CJT until 2002. I ranked 2nd in the National Junior Championship, I won the Portugal Cup in Junior league, but then, despite being a constant candidate for victory, the results wouldn't translate that. The funny thing is that, even though I wasn't the best at the national level in terms of results, Nuno advised my father and together they decided that I would run in Italy.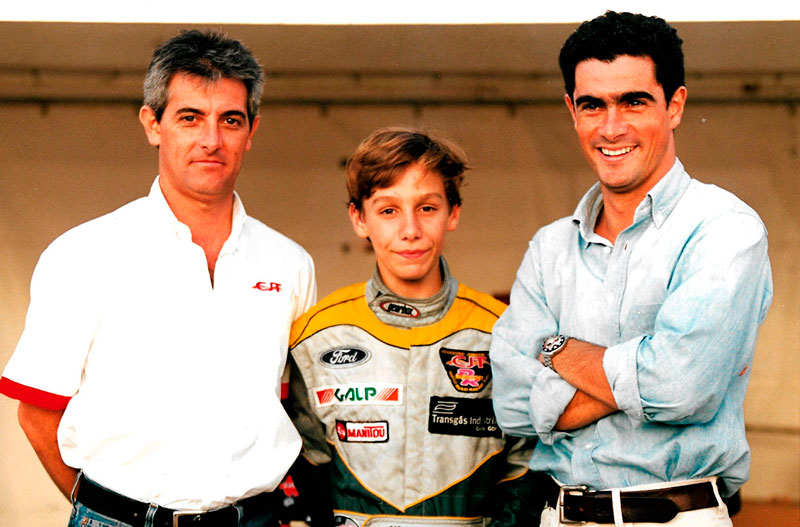 2002
Italy was always a reference in the karting world. Going there was a decisive step, with this half portuguese, half italian team, with the mechanics that I already knew but in different tracks, and in a new country. Being a rookie, we wanted to know how my pace would measure up against the world's best. The most surprising thing was that, that year I won some races.
At this stage, my father was the one who'd still pay for me to race the five tracks at the Italian Open, which I finished in 2nd place, as well as the Europe Championship race. For the latter they organized three qualifying sessions in Europe, each one with 100 drivers. One of them was at Bombarral. I had a much faster pace than anyone else and at the final I was leading with a great distance but, five laps away from the end, the go-kart chain got loose. I lost that final but it wasa only a qualifying race and I still managed to move onto the big final, at Angerville (France), where I would be competing with some other 100 leading drivers, just like me. It ended up going well: I led the race but, 3 laps away from finishing it, I couldn't keep up with the driver that ended up winning that year, Jonathan Thonon. In that race I became the european go-kart vice-champion, where Sebastian Vettel, who also raced, ranked 8th. I'll also never forget the date, August 25th, my mother's birthday.
The second semester at school was the hardest for me, I'd skip a few classes but had to put in an extra effort. My father used to tell me that I had to apply and study, otherwise there would be no more karting for me. At that time, karts were already my dream and my life.
2003
At New Year's, I went through a rough time as my father suffered a brain aneurysm. He survived but became tetraplegic, everything changed in my household. My father became unable to make any decisions whatsoever, my mother started to raise three children by herself and we were all much, much more worried about my dad's health than my racing career. It was a time in my life that we barely spoke about my career because there were way more important things to discuss or to do. My mom also didn't have the financial ability to both raise her children and support karting: it was just too much to handle.
It was at that time that Nuno, Pedro and also Danilo Rossi decided to help me. They managed to make me an official driver for CRG. That year, neither my mother nor I had to worry about any go-karts expense because I was an official CRG driver, an italian karts manufacturer. I became an official karts driver at 17, it was the only way of continuing this dream. I wanted to jump to the next category, which was much harder, mainly because I would have to compete against the world's best.
However, for that I'd have to move to Italy and there I went in March. I raced at the Italian Open, Europe's Championship and at the World's Championship. I used to go back and forth with the team, by truck. Professionally, it was a very painful year because the Dunlop tires were below the competition's performance and so my results weren't that great. My best score was at the World's Championship, I finished 10th and was the only one with Dunlop tires at the final – they were quite happy.
I used to live in the North of Italy, in Desenzano, at a drivers' apartment on the back of CRG's factory. I used to wake up at 7 am so I could be building karts at 7:30 am, getting ready for the races and helping the team out. I used to work till 6pm every single day. It was a full time job, which made me grow so much. There wasn't much to do, I didn't have a tv set at the apartment and had to be careful with the roaming budget on my cell. There was a nearby supermarket. I used to walk there with a shopping cart in the middle of the road, for about .3 miles around 6 / 7 pm, afterhours.
It was a rough time for me because my mother and my siblings were taking care of my dad's situation and I was alone in Italy, trying to be a race car driver. I had to adjust to living by myself in a foreign country and learn another language. It was really hard to be so far away from my dad, I no longer had his advice nor his guidance on what I should be doing. My mom was super busy and worried and my major safety net at that time was Nuno Couceiro, who guided and mentored me on everything and he raised me, at a distance. In a blink of an eye I stopped having my dad's hug. I was no longer under his wing and had become a grownup: I was no longer a child.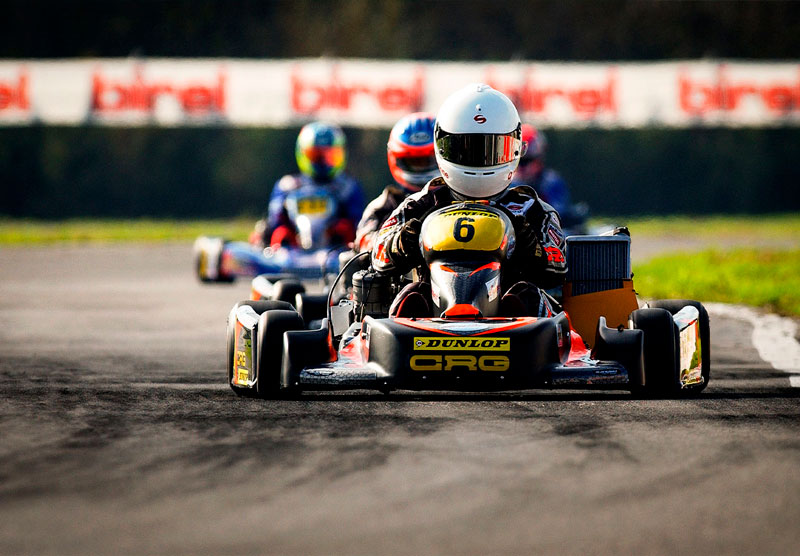 2004
At this time, CRG stopped working with Dunlop and I started working with the same tires as my competitors. I continued as a professional driver and in this year, when there was more gumption and motivation, it was the first year CRG decided to build its own line of engines, called Maxter. They had a tremendous potential but they used to break too often and so it was very hard on all of us.
I came back to racing at the Italian Open, Europe's Championship and at the World Championship and had some good and some bad scores, always close to potential and yet far, unfulfilled.
After 2003, a year that seemed like four or five, the time I spent by myself made me grow too fast and live in a very competitive world. Now I already had a driver's license and could use the factory's trucks that were available. The smallest car for me to drive was a 9 seat Vito van and I even went out to hang out at night with one of those delivery vans with 3 front seats. I had more fun and had a newzealand teammate, Mitch Cunningham, for company.
Once again, despite the results not matching the expectation, Nuno Couceiro asked me if I'd like to continue karting or try my luck in single-seaters as a way to get into Formula 1. I didn't have any money, but he told me that was something for him to worry about. It was all very well managed by Nuno, who got me a (driving) test with the Red Bull Junior Team. I was evaluated by the team Racing Engineering, who assessed whether or not I was a driver capable of achieving victories and doing the Spanish Formula 3. That test took place at Estoril, and the biggest unlucky coincidence happened. We got tremendous bad weather, it was raining cats and dogs and I spun out twice on my first lap. I couldn't reduce the speed, it was an H pattern gearbox and I felt very stuck because of all the seatbelts. I hated that first lap on a Formula. The team calmed me down and I quickly learned throughout that day. I evolved very fast, didn't do anymore spins, didn't get off the track in spite of all the water puddles and at the end I scored pretty well. The team gave Red Bull great feedback about me and recommended me to be their driver the year after that.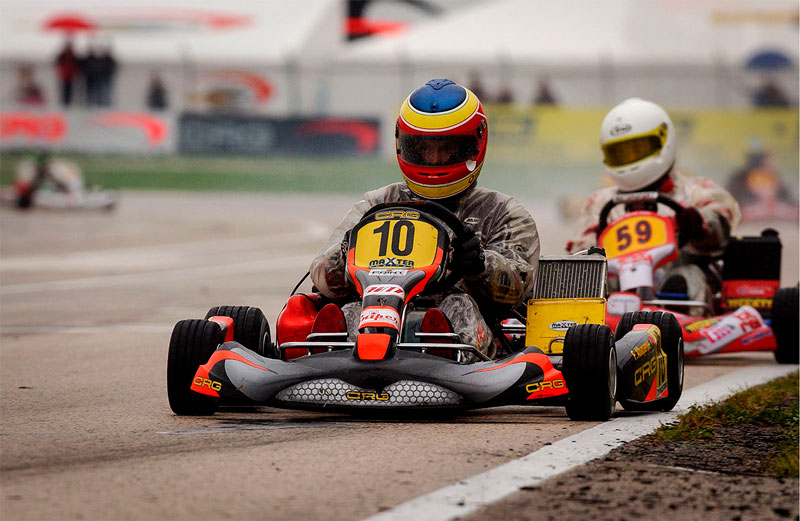 2005
At this point I had returned to Portugal, I was living back home with my parents and siblings and was a much happier person. My dad's situation was stable and, even though it wasn't great, we had a family routine and were adjusting to what would become our lives.
I went from karts to single-seaters and did the spanish Formula 3 as a Red Bull Junior driver, after signing a contract that already mentioned Formula 1.
I was living the dream and had it very clearly in my mind that I only depended on myself to get into Formula 1.
The atmosphere in single-seaters was completely different. During the weekends I didn't have to tune the engine, only drive and be the best. I felt this huge motivation and almost felt undefeatable because it only depended on my ability to be fast, there was no competitiveness about the engine, the chassis nor the tires. It made me a more confident driver.
In my first race, at Jarama (close to Madrid), I ended up 6th – I was learning. The following race was one month after but in the meantime I got a call from Dr. Marko (Helmut Marko), who was responsible for the Red Bull drivers, that told me I had to replace a driver at the German Formula Renault 2.0, in Zolder, Germany. There I went.
My first contact was immediately at the race, I didn't know the team (Motorpark), nor the car, nor the track. Anything. I just knew one of the drivers that had raced alongside me in the karts, Teemu Nyman, a Finish driver that was there from the beginning of the year and had a pretty good pace for a rookie. On my way to the track, I remembered talking with Timo Rumpfkeil, Motorpark's owner, and being caught up to date by him: the free practice, the races and other details. Timo told me that if I'd adjusted well to the car and had a good pace I could do the European Formula Renault 2.0 (Eurocup) and the German Formula Renault 2.0 Championship. According to him, driving well in my first year of single-seaters, without testing, meant the same as ranking 25th out of 40 drivers. My head was immediately filled with questions, thinking to myself that the expectations were very low. After go-kart racing against 100 drivers I held myself in higher regard. I respected and gave my best.
It went pretty well, I ended 14th on my first race. In the second race, I was in 11th and found myself in a fight with the driver that was the candidate for the victory; nowadays I race against him. His name is Kamui Kobayaishi, Toyota's driver and he came to win the championship that year. I was the best driver of the team, much better than the other 3 (Teemu, Nathan Antunes and Matías Milla). The team was really impressed and I started to race the 3 championships.
Most of the pressure came from Dr. Marko, who would call me before each weekend and after each race to tell me which was my next goal. On the second race of the Spanish championship, he told me that I had to get the podium, otherwise "this wasn't my sport".
I was the best rookie across all championships, and finished 5th at the Eurocup, 3rd at the German Formula 2.0 Championship and 6th at the Spanish Formula 3.
Nuno or Pedro would come to my races to help me in this new single-seaters world. At this stage Pedro was much more present because it was his comfort zone; in spite of still being racing GTs, he had recently raced at Formula 3000.
He knew the tracks, the teams' owners, engineers and mechanics, all spread across the paddock. I'll never forget how he taught me to read telemetry (on track driver's analysis program) and how that tool, when well managed, would make me drive better and understand where I was wasting time.
He taught me so well that, at a certain point, I started to realize my team mate's engine at Formula Renault 2.0 was much faster than mine. At the time I was quick witted, I faced Timo up front and told him that Teemu Nyman's engine was better than mine. He laughed, but when he realized that I was being serious, he started to make up excuses that I always fought with telemetry facts.
Even though my results were the best of the team, Timo never admitted I was right until the last 2 races. One day, we were in the car, just the two of us, and he said he'd give me .3 seconds to Estoril, the one prior to the last race of the year at the Eurocup. But how? He was going to change the engine! In that moment I felt twice as happy, for my improved engine and for the confirmation that I was right in spite of knowing it already – but now Timo also knew that he couldn't trick me.
In that race I did my first podium at the European Formula Renault 2.0.

2006
2006 was the year I settled as a top of the line driver. The year before had been my first in single-seaters, my rookie year in all the championships but in 2006 I repeated the Formula Renault 2.0 Eurocup and competed at the Formula Renault 2.0 North of Europe (NEC, the former German Formula Renault 2.0).
Eurocup was clearly the most competitive category that existed in the path for Formula 1. Each race would include about 40 drivers from different nationalities, it was a meetup of the very best of each country.
The NEC was less competitive and yet one of my biggest rivals was also competing there; it was easy to finish off the top 5 but it was still hard to win.
The stakes were high. It's one thing to be a young promising talent and another to make that come true, show results, become a champion. Many times people don't realize how comfortable it is to be merely called promising when you haven't achieved anything yet. I had the Couceiro brothers around, they wanted the best for me and could manage me well by, at the right times, giving and taking away some of the pressure, to maximize my potential. They were getting me ready for the future.
Despite being one of the top drivers, at NEC I had a solid but close season and I won the title just a race from the end. At Eurocup things were dire, we've had a very difficult year with a lack of pace at times. We got to the final race of the year, at Barcelona, I was 6th place in the championship and, in spite of being mathematically possible, I was the last driver to be able to win. Not only it depended a bit on everyone else's scores, the goal for that weekend was clear: I had to achieve both pole positions, win both races and do the fastests laps. And that's exactly what happened: I won it all, it was a dream weekend. Dr. Marko was there alongside Nuno Couceiro, who was so nervous he couldn't sleep anymore past 7 am and got to the paddock even before the crew.
The goal within Red Bull was very simple: only stays who wins. I was one of the most experienced drivers, I kept staying on the program and had to win both championships. I was the Red Bull Junior Team Driver of the Year, with the most victories and titles.
Dr. Marko told me that, if I achieved the desired results, I'd go to GP2 the following year but the rules changed and, in 2007, I went committed and willing to learn as much as I could and doing my best to the World Series by Renault 3.5 with the Epsilon Euskadi, a Spanish team that didn't have the best results the previous year. It was a bigger and more powerful car than the Renault 2.0.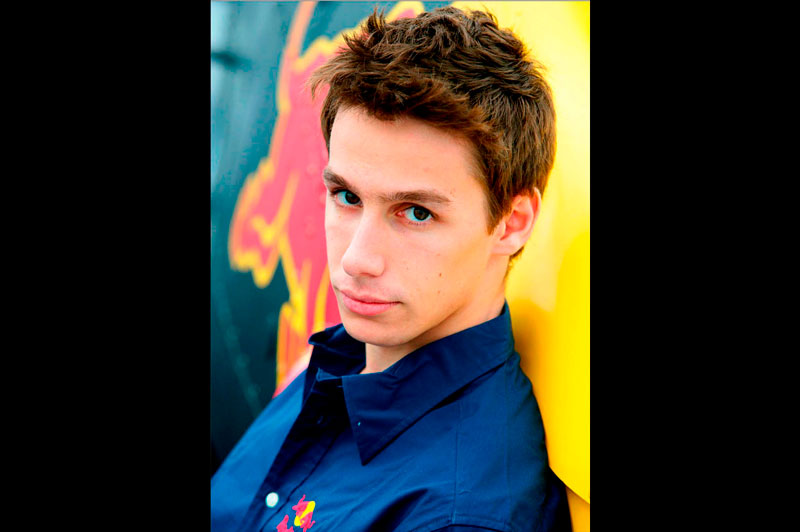 2007
The World Series was a Renault championship that took place on the same weekends as the Renault 2.0 so I already knew all its tracks. It was a highly respected championship, almost as good as GP2. That year I raced against Sebastien Vettel, Álvaro Parente, Giedo Van der Garde, among others.
I knew I'd always have an adjustment period. I remember the first race, at Monza, where I got very tired on the neck, due to all the breaking and lack of physical preparation to keep up the performance until the end. And yet it was a positive outcome because I was ranking within the top 5.
I won a race in Hungary, achieved some podiums, finished the championship in 4th and went back to being the best rookie driver. Everything was going really well and the talks about Formula 1 came back. I did street demos with a Red Bull Racing Formula 1 in Venezuela, Colombia, Estonia and several car evolution test drives for Red Bull Racing and Toro Rosso.
At the end of that year there was the chance of moving on up to the next category, and be part of a GP2 project that would happen on the same weekends as the Formula 1, including the rise to Toro Rosso. However, that required a large investment that we weren't able to raise funds for and, as such, Red Bull signed off with another driver, Sébastien Buemi.
Right then and there the F1 dream ended and that was really hard to accept. Red Bull proposed a test drive for me to do at Formula Nippon, in Japan, but we weren't in such a globalized world as we are today and the drivers that used to go to Japan hardly would come back to Europe to build their careers. So, we decided to leave Red Bull. I must be one of the few drivers that stated that I didn't want to continue to pursue this path and this was a decision that I'd never be able to make by myself. I had, right besides me, a manager that could read between the lines and think of what the future could bring us. For us the Red Bull project meant either Formula 1 or nothing, and we went on with our lives.
F1 Test Driver
(Red Bull & Toro Rosso)
2008-09
I was hired to defend Portugal's colors at the A1GP championship. The cars were more powerful than the World Series ones and I did the last 4 races of that season. Immediately in my debut, at a city circuit in Durban (South Africa), I went to the podium and the remaining year I ranked very well, I was the second highest scoring driver within those 4 races, I did many podiums.
I renewed my contract to do this championship full time with a Ferrari chassis and engine in 2008/2009 and this was one of the most fun years. The races were spectacular, the car was very good, the tracks were amazing, the championship was very well organized and everyone who was involved loved that season. I'll never forget the trips I did during that time to New Zealand, South Africa and China, among others. The races were tough and I raced against heavy weights like Neel Jani (who was also at Racing Engineering, back in 2005), Adam Carrol, Jeroen Bleekmolen and Robert Wickens. Our driver coach at the time was Pedro Matos Chaves and our work during this period ended in a solid friendship. I took the fight for the championship until the very last race and finished 3rd. The A1GP ended up broke in May 2009.
By this time I started dating Joana. From the beginning I knew I was entering a long-term relationship for the way we got along and the lifestyle we shared marked by our international careers and a common interest in traveling.
At the end of that year I did a very successful test drive with Audi, for the DTM. I received excellent feedback from the engineering team and referenced drivers who were mentoring the drivers that were at the shoot out. However this opportunity fell through.
There was a Superstars race in Portimão and we decided to go for that tourism race. I finished 2nd, the team (Audi Italy) was impressed by my driving and invited me to race at the Italian GT Championship, at Mugello (Italy) because Dindo Capello was busy with an LMP1 race. The team also liked my personality and decided to make me do the last race of the year, right next to Dindo Capello, in Monza. We won, it was Audi's first victory in Italy.
At this time I felt that, once again, my career was showing me that it is hard to get through each obstacle but, in order to fight for my dream of becoming a professional driver, I could never lower my arms. I had to keep on fighting.
2010
I became an official Audi Sport Italy driver, a conquest that I owe to Emilio Radaelli because he believed in me. I did the Italian GT3 Championship, next to Marco Bonanomi and that year went beautifully: we ranked 2nd. I was called back again by the official Audi for another shoot out with DTM and with the LMP1 project. Things went really well in both tests and Dr. Ulrich (Wolfgang Ulrich, responsible for Audi Motorsport between 1993 and 2017) made the decision of putting me on DTM; I was young (24 years old) and, if things didn't quite pan out, there was still enough time to transition to LMP1.
That year I participated in the Race Of Champions (ROC). The organization used to qualify across multiple worldwide regions. The South of Europe qualifying happened in Portimão and the two best drivers would represent the country at the Race Of Champions, in Dusseldorf (Germany). That job was tasked to Álvaro Parente and myself.
On the first day, you'd fight for the Nations Cup. Each pair of drivers represented a country or a region and everything went south for us. I was with my girlfriend, Joana (nowadays my wife) and I felt so sad that we left the Stadium and asked her to just grab a movie, I didn't want to be with anyone else. The next day all the drivers competed amongst themselves. I woke up fresh and with the feeling of wanting to enjoy myself and I wanted to measure my pace against the world's best like Michael Schumacher, Sébastien Loeb, Alain Prost, Sebastian Vettel, Tom Kristensen, amongst others. I felt very at ease in all the cars I drove and ended up winning against everybody. It was spectacular.
2011-13
In 2011 I became an official Audi Sport driver and joined DTM, a highly respected championship worldwide, with high downforce cars and where all drivers are professionals, all hired by the German manufacturers. I was the first Portuguese driver going to the podium, right on that first year, which was very hard to achieve.
I continued with the Rosberg team in 2012 and 2013. They were promising years, with good results during free practices and qualifying but without actually achieving good results on the races.
I don't keep fond memories of DTM but I learned a lot about how to deal with a big manufacturer such as Audi, with a lot of engineers, some politics and knowing that we always have to respect each championship, even though we've done many things in the past. It was clear to me that the specialists are always hard to beat. I enjoyed many tracks where I've raced, like Norisring (city circuit), watching Hockenheim, with its full stands, of about 150 thousand people.
Dr. Ulrich (Wolfgang Ulrich) and Dieter Gass were unique people to work with and both of them moved me. They could read the drivers, their qualities and hardships, they were very humane and professional. I learned a lot with that and I'll never forget the people they were to me, mainly during those hard years.
At the end of the year an opportunity to transfer to the LMP1 project came up and I took it.
In parallel, I was also doing GT races and in 2011 I competed at the Blancpain Sprint Series where I ranked 3rd.
In 2013 I raced for the first time at the 24h Daytona with Audi, in the GTD category, and I made history by winning such an emblematic american race. I fell in love with the atmosphere, with the show and the type of racing. I went with my girlfriend Joana, to experience the relaxed atmosphere of American racing where families are welcome. The environment at the team was also great with my teammate from DTM, Edoardo Mortara, Oliver Jarvis and a South-AAfrican/American driver Dion Von Moltke. It was a perfect weekend, where I met the US with Joana and watched the way they race the big Daytona race, very hard on the GTs, with 30 cars on track at the same time. Enough said that we went in for the last hour and a half with 7 or 8 cars able to fight the victory and we won with me in the driving seat. It was an amazing moment for sure.
By the end of 2013 I got a chance to move to the LMP1 project and although I would have liked to show that I could have succeeded in DTM, the Couceiro brothers advice and my passion for Le Mans spoke louder.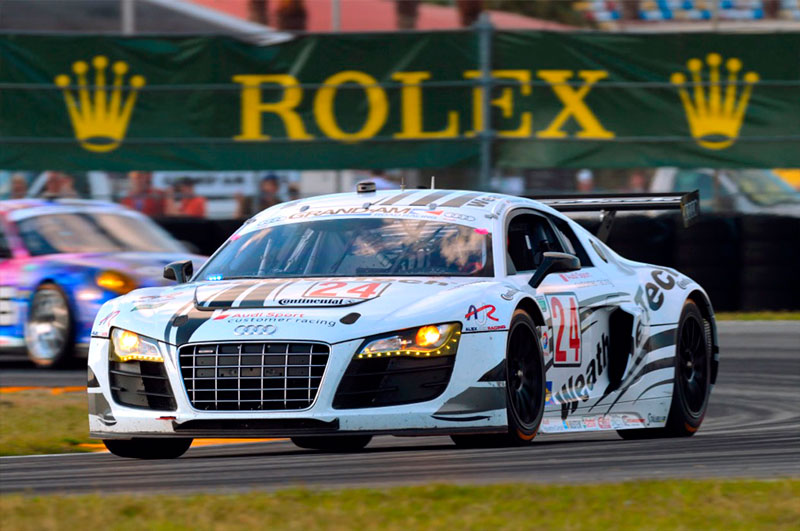 2014-15
In 2014 I left DTM and the sprint races to dedicate myself to the endurance ones. I had the opportunity to go to the LMP1 project with Audi and do Le Mans and I couldn't let it slip through my fingers: I immediately went for it. I felt very comfortable with sharing and way of driving.
On my debut year at Le Mans, everything was going great because we had a good pace, culture and camaraderie with my teammates – Marco Bonanome and Oliver Jarvis – it was really, really nice. Within the first few hours we were hit by a car so bad that I didn't even get to drive. It was very hard for me to manage that frustration, not even to drive on my first 24h of Le Mans. I believe we could've won that race even though we were all rookies at the time.
In 2015 I did Le Mans again, now with Bonanomi and René Rast and we also prepared quite well for it. During the race we were being the best Audi, on the same lap as the leading car, but we had an electrical failure that threw us off the fight for the victory and ended up 7th.
In 2014 and 2015 I also participated in the European Le Mans Series with the Jota team, next to Harry Tincknell and Simon Dolan. We were candidates to victory across all races. In the first year we finished 2nd and in 2015 we ended up 3rd.
After those two years I was more and more comfortable with the endurance path and felt my future was promising there. My personal life was also like a dream since myself and Joana, we had decided to go ahead with the most important project of all, to raise a family. Joana got pregnant and we were going to be parents in the beginning of 2016. My life was just perfect.
However, at the end of 2015 the big Dieselgate controversy triggered a sequence of events that led Audi to decide to remove a car – my car – off of Le Mans. At the end of 2016 Audi would completely leave the endurance project.
It wasn't easy, not easy at all. I was completely taken aback by it. A brand that was participating in Le Mans for 18 years decided to retire not long after I joined. I had to think through again, how to deal with this situation and, in spite of the frustration, I couldn't lower my arms. This time I had to think about my family and Carolina that would be born one month after. Although I could rely on Joana, I've always felt old school by wanting to take care of my family all by myself. So I had to keep on fighting and keep up with my best performance. Before Audi, I already knew what instability looked like.
2016
The year started with a lot of proposals on the table and I ran four different programs.
I won the North-American Endurance Championship, which included the Daytona, Sebring, Watkins Glen and Petit Le Mans IMSA races. I raced with Action Express, siding João Barbosa and Christian Fittipaldi, and also Scott Pruet, in Daytona.
I also raced the FIA WEC (World Endurance Championship) with an LMP2, with the RGR team, next to Bruno Senna and Ricardo Gonzalez. I developed a strong friendship with them all. Ricardo was both the gentleman driver and owner of the team and he insisted on celebrating each race appropriately, no matter the outcome, there was always a party. I have many stories of this year and our adventures. We conquered 2nd place and the World Endurance Cup in LMP2.
To honor my contract with Audi I also participated in some GT races, at the Italian GT3 Championship, where I finished 2nd and at the Blancpain Endurance Series Championship.
Beyond all these 24 races throughout the world I was also a father for the first time. Carolina was born in the beginning of January and I remember being with Joana at the maternity hospital with our beautiful daughter. I bathed Carolina for the first time in her life, I left her in Joana's arms and drove to the airport to catch a flight to the US. I had to head to Daytona for the Roar (official test for the 24h Daytona). I couldn't help Joana when she left the hospital, I had to ask my brother to take them home. It was quite a challenging year, very full, with cars and different races, for teams and also different championships. In the middle of this year, in July, I managed to marry the woman of my life. We had to get married on a Monday because I was always racing on Sundays.
I was away many days and many nights but I was always looking forward to going back home to help Joana as much as I could, who was by herself taking care of Carolina, and enjoying my time with my first born. I never knew which time zone I was in. I spent that year making shifts, either racing or changing diapers. Once I even found myself rocking my pillow in the middle of the night because I thought I was holding Carolina in my arms. It was very hard on us and I feel that Joana deserved more trophies than those that I brought home but we also knew that all our effort was necessary to build a good lineup for 2017.
2017
I raced again with Action Express the endurance races but now with the DPis, with Cadillac, a car that was brand new. The environment was great amongst the team and I was loving racing in the US. The season went well and, next to João Barbosa and Christian Fittipaldi, we won the championship. That year, Daytona left a mark because I was leading the race the last few minutes but ended 2nd due to a brief bump against Ricky Taylor, where WTR ended up winning and generated quite the controversy..
That year, in Daytona, I met for the first time Richard Dean and Zak Brown because they were assembling their LMP2 team for the ELMS (European Le Mans Series also known as the European Endurance Championship) and they wanted to hire me. I joined United Autosport since their debut in LMP2. I was their professional driver, their reference, to do the setup, and with the right experience to guide the team towards success. I was also mentoring two young drivers whom I get along very well with till now, Hugo de Sadeleer and Will Owen. We ended up 2nd at ELMS and I got the best result at the 24h of Le Mans in LMP2, ranking 4th across all teams.
2018-19
I continued with Action Express but now as the main driver, doing the full championship (and not just the endurance races).
In January 2018 I had one of the best months of my life: I enjoyed amazing holidays with Joana and Carolina, we found out that Joana was pregnant with our second daughter, Maria, who was born later that year, in September, and I also won the 24h Daytona, with João Barbosa and Christian Fittipaldi.
The Rolex is her birth year and was supposed to go to Nuno Couceiro but since Maria was going to be born that year, I wanted to have a winning Rolex with the year of her birth. I promised Nuno that the next winning watch would go to him – he just needed to have faith in me.
In 2018 I went back to race at ELMS with United Autosport, now with Phil Hanson, another younger driver with whom I have a very good relationship, he is a humble driver and with the will to learn. The team's atmosphere was amazing.
In the middle of 2019 things didn't go so well to renew the contract with Action Express for the following year. Everything was last minute and I was only going to do four endurance races. I was quite sad that I didn't get to be full time that year, especially when I was bringing my A game.
I started to do the WEC with United, with Phil and Paul Di Resta that year, marked by a big and important transition: we left the Ligier to start racing with an Oreca. Now there were no more excuses in terms of results because until then we were suffering from the Ligier's lack of pace. I think that most people didn't know how much slower it really was. It was a statement year: if we would lose it would confirm the problem wasn't the car; if we'd win we would gain respect from everyone. I felt confident in myself, in the team and my team mates. This was going to be our best chance.
2020
In 2020 I went back racing at the North-American Endurance Championship, only to race at 4 of them which ended up to be 3 due to a calendar conflict.
I was available to do the FIA WEC (World Endurance Championship) and the ELMS (European Le Mans Series or European Endurance Championship) with United Autosport. That year we were candidates to victory, we went to Le Mans with a competitive car, we knew it would only depend on us and a bit of luck. Since 2015, with Audi, it was the first car I felt like I had a very good chance to win Le Mans and it was great that I was able to do it.
In March 2020, something unexpected happened and a pandemic came out of nowhere, right when I was about to prove mine and my team's worth. The whole world stayed at home, all the races were postponed, some cancelled and I stayed at home, on one hand happy to be with my family and on another hand trying to figure my life out, now that I had everything in place to win. I could only remember having interviews back in 2019, saying that no one would hear me giving excuses to not to win but in those 3 months, with so much free time, I started to wonder if I would be up for the challenge. I talked a lot with Joana about the meaning of things, why they happened and only to come to the following conclusion: the important thing was to prepare myself and get ready for when I'd be able to get back into the car, to give it all I could.
The first race was going beautifully, we did the pole position, we were leading the race and, at 20min away from the end, we had a flat tire. We ended up 3rd. Strangely enough I wasn't surprised with this incident.
One week later I lost my father. Deep down I had already lost the father figure back in 2007 and now I have another structure. I'm older, father of children, and dealt with the situation differently. I was left with all the memories, so many.
The following race was in Spa, we did the pole-position and we won the race. I felt super happy for being able to dedicate that victory to my father. We also won the following two races with pole positions in both of them. We were on top of our game to go to Le Mans but I know it takes more than pure pace to win it, we also needed to be lucky. Since 2015, when I was driving an LMP1, this was the first time I had a real chance to win Le Mans.
The race was everything but easy. Once again, we did the pole-position with Paul Di Resta and we had a good pace during the race. We won by a margin of 32 secs. It was a thrilling end of the race in the hands of Phil Hanson. After the years we spent together in which I taught him everything I knew, that long-awaited moment of his was flawless, no mistakes.
It was amazing to be able to win this big race. Despite myself, Nuno, Pedro (Couceiro) having won Daytona twice, this win in Le Mans in LMP2 set the bar on where we stand and what we've achieved together, it was very special.
Winning Le Mans was also very important for United. We started in 2017 together and I already consider this team part of the family. Richard Dean is one of the best people I know in the motorsport industry, fair, loyal and very professional; we have more than a professional relationship: we're friends.
Then we won the ELMS: the race in Monza (Italy) was right after Le Mans, we went with the status of "24h winners" but there was still a lot we needed to achieve. We did the pole position, won the race and the championship. It was incredible. It was funny that I won the European Championship in Italy, the country where I lived and also where I have people I am very fond of, such as Danilo Rossi and Emilio Radaelli. The last ELMS race was in Portimão, we were relaxed because the championship was already won and we finished 3rd. We closed the year in Portugal, finally won after so many times having finished second place.
At WEC we won as well, we totally striked LMP2, winning everything we'd go by. Besides that I was also awarded with the Award for Excellence, by WEC's organization and by the hands of Dr. Ulrich, another person that is part of my history as a driver.
In the same year I won Le Mans, WEC and ELMS in LMP2 and Phil Hanson and I were the first drivers to ever accomplish such an achievement. We became the reference team at WEC and ELMS in LMP2.
It's funny how good things can come out of bad situations: if I were doing the American Championship full time I wouldn't have done the WEC and ELMS. And it was exactly after my father's death that all these outcomes started to rise. I felt that life closed the door and opened a window. Coincidences… or maybe not.